Welcome to gone.world. This is the home of sailing vessel Humpback and its crew: David, Charlotte, Arthur, Theo and Hector. We blog mostly about each place we visit and our passages between them. Sometimes, we also talk about other things like babies and children on board, boat-schooling and boat maintenance.
Tangled prop on arrival, thankfully easily resolved. Seaside town.
A beautiful near-circular bay, stunning beach, more life than we expected. Frost on the windows, playing in the sea.
We didn't intend to stop here, but it was beautiful. Marina in a good location, lovely feel to the place, great Christmas fair.
The autopilot heading-input broke in the middle of the night. I decided to head to a marina rather than hand steer.
A small sheltered anchorage next to a lovely quiet village. Some fun on a sandbar.
While on passage from Porto to São Jacinto, we enjoyed the winter sunshine and some dolphins followed us for a while.
We spent a month in Duoro marina, just outside of Porto. Lots of photos, very little text.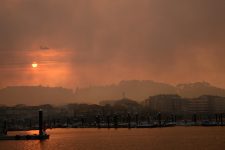 8 days in the centre of a beautiful city. Spectacular castle and starting the many jobs which need doing on the boat.
Beautiful island with an astounding lagoon (natural aquarium), great beaches and wonderful rock-pools. The busiest of the three Islands we visited in the national park, though, by a long way.