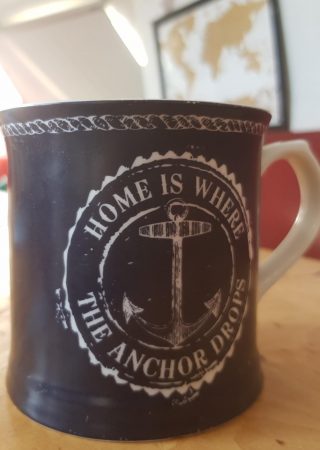 I am delighted to share the achievement of a childhood dream. I've resigned from my secure, worthwhile and enjoyable academic post at Warwick so that we can become a family of vagabonds. Charlotte, Arthur, Theo, Hector and I will be living on our little boat for some time yet.
Now that we are not in a rush to get back to the UK, we are not going to cross the Atlantic with Hector at this developmental stage – it feels like every time we turn around he climbs onto the dining table, stands up and grins cheekily. This is fine, or at least manageable, in a flat anchorage; not so easy to handle at sea. So instead we have needed to think about what to do through hurricane season here in the Caribbean!
After a little research, we have decided to head down to the Windward Isles and will be in Grenada or thereabouts for most of the Summer. Grenada gets about the same number of tropical storms as the UK. And if it looks like it might get hit by a big one, we can sail south or West well before they arrive. Easy enough for us – not like for the locals. After that, some cruising, a decent-length visit to Guatemala, cruising Cuba, the Bahamas, and the US coast or intercoastal waterway. Then crossing back to the UK to visit family from September '20 or so through to April '21 when we'll set sail again… Destinations unknown.
Living as we have been – almost entirely at anchor (we have not been in a marina since early December, and are only in one at present to collect and install some boat parts), making our own power and water, and being careful with our spending in general, our expenses are a fraction of what they would have been the UK. Even when we add in the costs of maintaining the boat. We're in the lucky position of owning our boat outright and have a small income from savings, so if I can find 10-15 hours a week of remote academic freelancing we can make this a sustainable lifestyle.
Saying that, looking after three kids and keeping our boat both habitable and safe for sailing is not as easy as pictures of "yachts" might suggest! Our monthly task list is currently very neglected, the ant invasion has yet to be beaten back, small colonies of barnacles take residence very quickly indeed, the inside of the boat needs a refit, the freezer remains non-functional, our hot water is only hot when the sun has been out constantly all day or we are in a marina, and did I mention the three boys?… We're having fun, but if you think this of this lifestyle as an extended holiday … well, you are wrong. It's just a different type of life.
In terms of work, I will be remote freelancing as an academic doing all sorts of research and writing gigs. There seems to be plenty of work out there, so I am trying my best to keep the work I take on varied, enjoyable, limited to 15 hours a week, and mostly useful to society/humankind/the planet. My first client was the author of a book called "Knowledge Nomads and the Nervously Employed: Workplace Change & Courageous Career Choices". This coincidence made me chuckle for quite some time. The most developed working profile I have at the moment, if you want to know what I am upto, is over at upwork.
Since then I have completed literature reviews for business-purposes on play, salmon farming and the shipping industry, written facilitator guides for an outfit that trains NGOs in Nepal and India, and am in the process of effectively supervising a doctoral dissertation on the environmental impact of business travel. It's been a good start. I've also had, or re-found enthusiasm for, about a dozen ideas for papers either for academic-publication or publication somewhere else. If the mood strikes, I will be blogging about them, and other work-related things, at some point over on davidcbeck.com.
So that's it really – we're living on a boat, home-schooling (or rather boat-schooling) our kids when they feel like learning, and sailing when we fancy somewhere new! Exactly the same as the past 20 months or so, except without a fixed end-point. Feeling free and content right now.
David
Ps: yes, it really was my childhood dream to become a vagabond. Well, I believe the term I used was "beach bum", but the point is the same – driven more by contentment than material wealth or social standing, often wandering, a little salty. I'm exceedingly lucky that my wife has similar lifestyle ambitions.