Odd name for a boat? It wouldn't have been my original choice, but the previous owners our soon-to-be new home loved Cats and cats (catamarans and felines). Since it is suggested in the boating community that it can be bad luck to chance the name of a boat, we thought maybe we'd stick with it (the same applied to our previous boat, Penta, apparently named by her previous owners after her diesel Penta engines).
So here she is, Mistoffelees…
Mistoffeles is a catamaran, so has two hulls joined by a central saloon area. The decision between a monohull and a catamaran was mostly influenced by the fact we will have small children onboard. When sailing in the past, I was continually thrilled when the boat heeled over, allowing me to trail my hand in the water or put my balance to the test if helming; I sympathise with the young man who assisted our boat surveyor when he referred to a cat as an old person's boat. It might be a bit pedestrian compared to the sailing we're used to.
However, living onboard a boat with small children, including completing passages over a number of days and nights without stopping to anchor or moor at night, is a very different situation. Mistoffeles will sail flatter. Flatter has a lot of benefits- the kids won't be caught out when tacking or jibing by the boat suddenly heeling on the opposite side; they will be able to move around more freely, both on deck (suitably tethered, of course) and below; any games, puzzles or craft activities are more cooperative on a flat surface; and sleeping at an angle is not always easy. Not that they wouldn't get used to it, kids of other sailing families do, but we will technically be sailing short-handed (not the recommended number of able-crewman) and it is a new boat, so we thought we had enough new challenges ahead!
Space is a bonus too. Our 40' of boat has two hulls, so two areas of living space, plus the central area. It has a degree of flexibility we felt a monohull, and even some other catamarans, wouldn't offer. Many families live aboard in much closer conditions, but since we decided on a cat (for the above reasons) and after viewing a number before Mistoffeles, we had an idea of the size of boat that felt comfortable. This was actually as much to do with above deck as below- small cats generally had smaller and narrower deck space, which was in turn more 'cluttered' with sailing paraphernalia such as cleats, winches, ropes and the like. All essential, but all also rather hazardous with two active and fast children- just watching Arthur run around some deck areas was painful, but on Mistoffeles the boat is wide and saloon area is proportionally small, meaning wide areas without obstacles.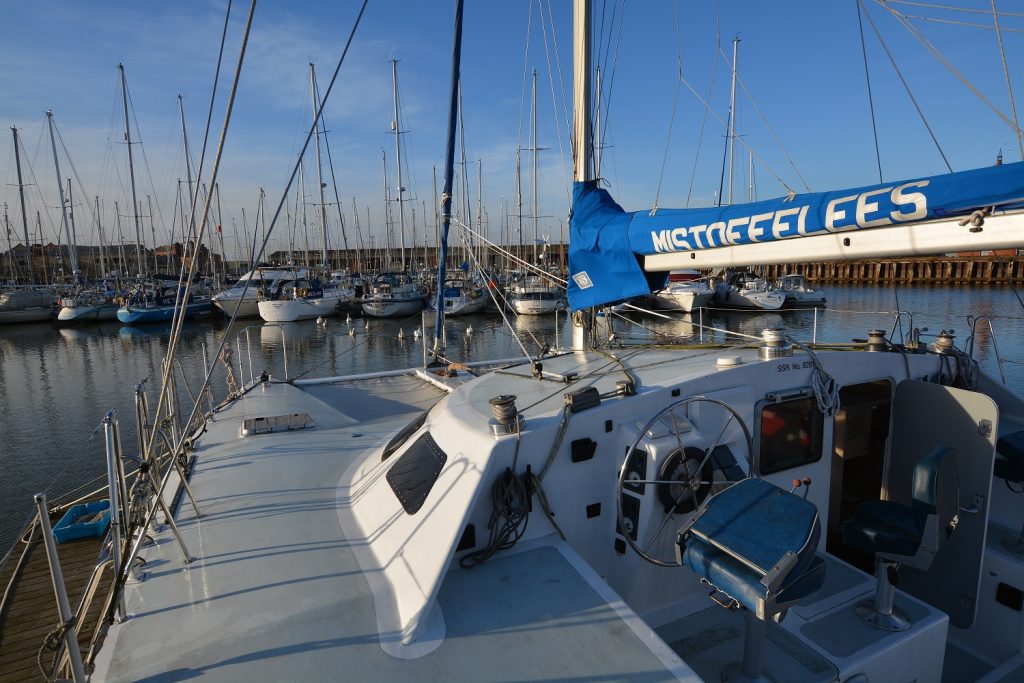 A catamaran, especially a fairly large one, does come with disadvantages. Some marinas will just be too small for us to fit. Some marinas will be far too expensive for us to use (charged by length, but we would also need two berths). Some more remote areas will be inaccessible, such as narrow river mouths (although we have a shallow draft so some shallow rivers will be more easily accessible than in a monohull). For us, I don't think these will be too much of a concern. In any case, marinas would very quickly deplete our financial resources for the two years we have planned, so our aim is to anchor as much as possible, especially since we have, or will have, all the facilities we need onboard (toilet, shower, fridge, etc.), and we can use a dinghy or inflatable kayaks to explore where the cat cannot venture. Using the tides strategically, we can purposefully beach our cat, which isn't really feasible unless your monohull has a bilge keel like Penta's- this has already proved useful when we needed Mistoffeles surveying as she is too big for local lift-out equipment, and would be invaluable if we suspected or needed to repair damage, or just for general maintenance.
So, to the interior. Our home.
The central area, or saloon, is where I envisage us 'living', a kind of lounge-dining room-play/craft area. As we currently bed-share with both our boys, and have a 7' square bed to make this manageable (Arthur has shown no inclination to sleep in what he refers to as 'his bed' in 'his room', it's more of a trampoline/climbing frame), we are considering constructing some sort of removable supports that allows us to utilise this huge area as a bed too. Though we have plenty of bed space in the two hulls, after a couple of trial nights it is already clear that bed-sharing as a family and boat berths are not an ideal match.
I guess I'll just refer to the hulls as 1 and 2 for now.
Hull 1 contains the toilet/shower room and master cabin at opposite ends. The walk though between the two is where the chart table, communication devices and other essential equipment (e.g. tools) are housed, as well as some additional storage. As far as we can tell without living aboard and using the boat regularly, this layout works for us and the only changes we would make would be cosmetic/aesthetic. The master cabin would be used by just me and Dave, or by one of us trying to get some rest between shifts on passage.
(Note the cats…)
Hull 2 consists of the 'den', behind which is the engine room. The area was used by the previous owners to relax and watch television away from the master cabin, but the middle section can be infilled to provide a large sleeping area. This might come in useful if both children are still bedsharing when we are on passage as it is both a safe area and comfortable size for one adult and two children. As an area of extra living space, I think this will be extremely valuable, and we have considered installing a removable table so we can use the den as a dining area, if, for example, the saloon table is covered in invaluable paintings or Duplo creations.
At the opposite end of this hull is the smaller berth, which will be for childrens' room in terms of storage and a dedicated play space. It will also be set up for Arthur, or perhaps even Arthur with Theo, to sleep in, should they wish to. It is cosy for an adult, but as a safe seeping area for one or two children it is ideal, especially when on passage or for naps when day sailing. This may not look like a great deal of space for clothing and toys for two children, especially when compared with what most houses (ours included) contain, but one of the challenges and aspirations of transferring to a life aboard a boat is downsizing our material possessions. We have for a long time endeavoured to focus our purchases, and those of family, on toys/games that are open ended and encourage experimentation, role-play and imagination, and that are versatile (e.g. wooden blocks, art/craft materials, play-dough, etc.), but those pesky noisy toys and other plastic monstrosities (which have a place, albeit very limited) still manage to infiltrate the house at an alarming rate. I will come back to this in another post when we start to make serious inroads into provisioning and selecting what makes the cut as we move onboard.
Between the den and the children's berth is the galley- the kitchen. It is a world away from the kitchen we are leaving behind, which is the heart of our home and where we spend much of our time, playing, crafting, constructing, reading, chatting, as well as for meals. As a boat kitchen, it is well equipped, with three small sinks, a gas oven and hob, microwave and plenty of storage for utensils, cutlery, cookware and dishes, as well as day-to-day food items. We will bulk buy a number of staple provisions (e.g. rice, pasta, flour) and items with a longer shelf-life (e.g. tinned fruit, soups, beans), and store this in various places around the boat to be accessed when the galley supplies run low- this will allow us to spend more time away from shore and enjoying remote areas, as well as keep us going on passage.
We currently have a small fridge with a tiny freezer section, but from a couple of uses it doesn't seem particularly efficient (as in, the food didn't stay cold!). People who live aboard do mange without a fridge/freezer, even in warmer climates, but I think for us it will be a bit of an essential item, even if some sailors would class it as a luxury. Dave will design and construct a fridge that will make better use of the limited space in the galley, allow us to store more produce, and more importantly, keep things cold. We will likely also have a small version of a chest freezer under one of the benches, but I think this less essential than the fridge.
There you have it- the grand tour. Cosy, but I think it will be manageable. There are enough separate spaces for us all to have a bit of 'me-time' and the boat has a surprising amount of storage space- the biggest problem will be weight when provisioning with food, clothes and books/toys for the boys, especially distributing the weight evenly so that balance isn't compromised.
In March/April 2016 (Arthur was 2.5 and Theo 5 mths), we spent two and half weeks touring the southern half of Vancouver Island, British Columbia, in a 24' campervan- it was cosy, we had to be very organised, and the children had a very limited supply of their own things, but it was amazing! Arthur barely registered that he didn't have his toys from home, and we were able to visit remote and deserted campsites set within spectacular scenery. We spent a further two weeks travelling by car around a very small area of mainland British Columbia and Alberta (Whistler, 100 Mile House, Jasper), which was equally awesome. Not a thorough test I know, but ultimately, it reaffirmed for us that we don't need and didn't miss the endless amounts of stuff we have accumulated over the years- what we experienced and gained can't be packaged or mass-marketed. I frequently feel a twinge of nostalgia for that holiday spent in close confines with my young family, but although Canada is breathtakingly beautiful, I think what I miss most is living free, living in the day, making snap decisions and not worrying about having to 'make the most of everything'-  for four and half weeks, time was ours. I can't wait to see what two years feels like.